At work on my next exhibiton 
+
Just curated SIB's by Rodrigo Azaola
as part of UNCOOL MEMORIES #2
ESAD Orleans exhibition at the Orleans Theatre
22.10_10.12.2020
+
Just published/Just happened:
  (Itw) A conversation with Paolo Cirio
in 02#94, Fall 2020
+
(Talk) Distributed decision-making systems prototyped by artists
on the occasion of the conference Exploring Blockchain in the Cultural Sector
organized by the Institute for Cultural Practices, University of Manchester
+
 (Text) My take on Andrej Skufca's exhibition in Ljubljana in 02#94
+
(Talk) Value Extraction and the Workforce of the Cryptocene
on the occasion of MONEYLAB#8: Minting a fair Society
a roundtable I curated upon the invitation of Aksioma
guests: Martín Nadal & César Escudero Andaluz, Nascent,Telekommunisten, Sašo Sedlaček
Monday June 29, 5pm-7pm CET, livestreamed and replayed here, tune in!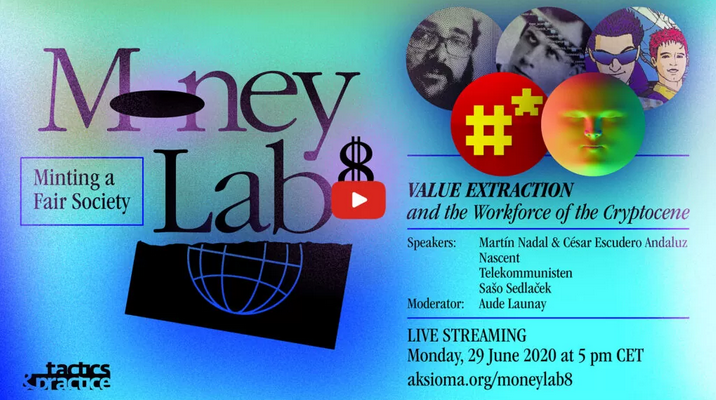 +
Radical Care: Embracing Feminist Finance
Get your free copy of this exciting zine!
+
 (Itw) entretien avec RYBN
zerodeux.fr, 7 mai 2020 (French only)
+
 (Text) Kate Crawford / Trevor Paglen
02#93, Spring 2020 (in English + French)
+
(Talk) La start-up nation : un cirque sans filet
Rencontre avec Antonio Casilli et Silvio Lorusso
La Gaîté Lyrique, Paris, 12 mars 2020, 19h
+
 (Text) Art, Capital of the 21st Century
in the Transnational Institute State of Power 2019 report
also in Spanish!
+
a conversation with Sylvain Darrifourcq
02#91, Fall 2019 (in French + English)
+
ComputerGrrrls, a conversation with Marie Lechner
02#90, Summer 2019, also in French!
+
 (Text) The Return of the Dead Moving Image
Commissioned by Klasse Digitale Grafik/HFBK Hamburg for 'Casting Screens'
 +
 (Text) The Polyphonic History of Net Art,
An Eternal Network? 
in 02#89, March 2019, also in French!
+
 (Text) Nick Koppenhagen
in 02#88, Winter 2018-19
+
 (Text) Another Block in the Chain
in André Hemer, The Imagist & the Materialist
Published by Painting Diary (Vienna/Christchurch)
Designed by Studio Büttner, Berlin
+
Proceeds of the BG Annual Conference
+
French translation of "Blockchain Future States", an interview with Simon Denny by Sam Skinner published in Artists Re: Thinking the Blockchain, ed. Ruth Catlow, Marc Garrett, Nathan Jones and Sam Skinner, Torque Editions & Furtherfield, 2017, Liverpool University Press.
in 02#85, Spring 2018
+