I am currently writing a loooong book on DAOs,
a short one on NFTs,
and editing one about Algotaylorism.
**To be published/To happen**: 
(Talk) De la culture des NFT aux NFT dans la culture
November 7, 2022, Forum Entreprendre, Bordeaux
+
(Talk) [something] DAO [something]
November 9, 2022, Aalto University
+
(Talk) From Commons to NFTs
+
**Just published/Just happened**:
(Event) Culture DAOs & DAO Culture
Conference curation and moderation
Ebb.Clubb.Paris x EthCCweek, July 20, 2022
+
(Text) From the Automation of Relations to the Amplification of Communities: the Rise of DAOs
in Between the Material and the Possible: Infrastructural Re-examination and Speculation in Art,
Sternberg Press // MIT Press, Spring 2022
+
(Talk) Just DAO it: The duality of autonomy in technology and in philosophy
It's Tech Time, nextmuseum.io, May 2022
+
 (Itw) Are Blockchains Alive?
a conversation with Sarah Friend
in PALM, Spring 2022
+
(Text) Nascent: Global Networks for the End of Globalization
&
(Text) Sarah Friend: Endgame Theory
in Spike magazine, issue #70, Jan. 2022
+
(Event) How Do We DAO?
October 23, 2021, as part of the Lisbon Blockchain Week
+
(Event) Why Do We DAO? 
July 24, 2021, as part of EthCC week, Paris
+
(Text) Tokeniser pour mieux régner ?
Sur différents usages des blockchains dans l'art
in L'Art et l'Argent, Editions Amsterdam, June 2021 (FR)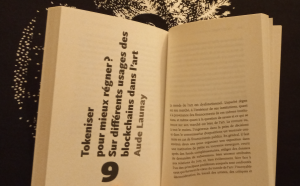 (PDF sur demande 🙂 TW @audelau // TG @Odd_Name)
+
(Text) Ce que la tokenisation fait à l'art
in The Great Offshore, ed. RYBN, UV Editions, May 2021 (FR)
Launch event at Centre Pompidou Paris, Nov. 25, 2021, 7 pm CET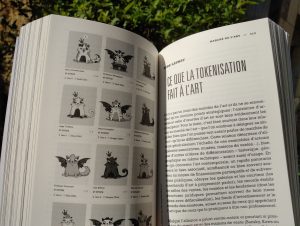 +
(Radio) I talked about the NFT craze as the democratization of the financialization of art
on France Culture, on May 25, 2012 (FR)
+
(Text) La révolution sera sans doute tokenisée
in Revue AS, June 2021 (FR)
+
 (Text) Munich, July 19, part 1 (about Franz Wanner's Secret Guide)
(Text) Munich, July 19, part 2 (about Franz Wanner's Secret Guide)
(Text) The Great Distraction: Obfuscation (about RYBN's The Great Offshore)
in PALM, the Jeu de Paume magazine, Fall 2021 (FR/EN)
+
(Curating) Algotaylorism: Rage Against the Machine
Espace multimédia Gantner (FR) Dec 5, 2020 — Feb 21, 2021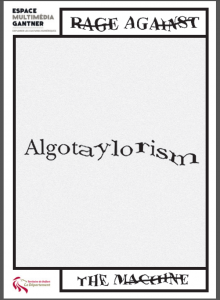 +
(Text) Sanela Jahić, The Statisticized Artist
Furtherfield, December 2020 (EN)
+
(Text) The Return of the Dead Author
Post-Scriptum (PDF here), Aksioma, Nov 2020 (EN+SI)
+
  (Itw) A conversation with Paolo Cirio
in 02#94, Fall 2020 (EN+FR)
+
(Talk) Distributed decision-making systems prototyped by artists
on the occasion of the conference Exploring Blockchain in the Cultural Sector
organized by the Institute for Cultural Practices, University of Manchester
+
(Itw) Many-Headed Hydras: DAOs in the Art World
interview with Ruth Catlow and Penny Rafferty
published in So-Far, Issue 3: Blockchain, Fall 2020 (EN)
+
(Curating)  SIB's by Rodrigo Azaola
as part of UNCOOL MEMORIES #2
ESAD Orleans exhibition at the Orleans Theatre
22.10_10.12.2020
+
(Text) Algorithmes sur toile
 in Peinture : obsolescence déprogrammée (FR)
Published by ESAD TALM and MASC Modern and Contemporary Art Museum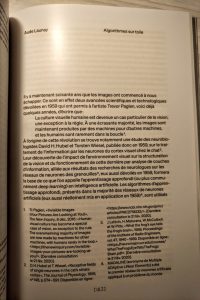 +
 (Text) My take on Andrej Skufca's exhibition in Ljubljana in 02#94 (EN+FR)
+
(Talk) Value Extraction and the Workforce of the Cryptocene
on the occasion of MONEYLAB#8: Minting a fair Society
a roundtable I curated upon the invitation of Aksioma
guests: Martín Nadal & César Escudero Andaluz, Nascent,Telekommunisten, Sašo Sedlaček
Monday June 29, 5pm-7pm CET, livestreamed and replayed here, tune in!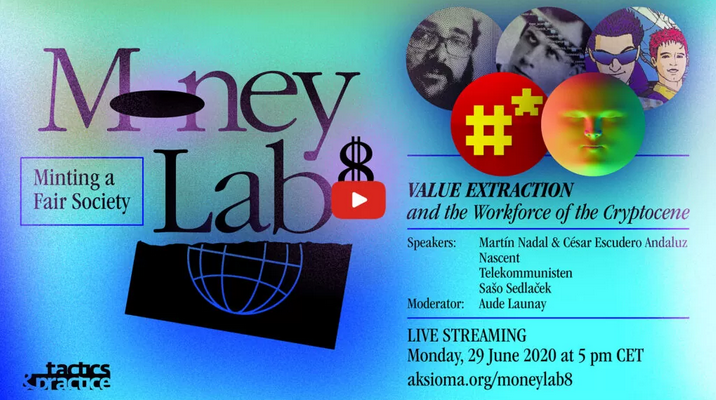 +
Radical Care: Embracing Feminist Finance
Get your free copy of this exciting zine! (EN)
+
 (Itw) entretien avec RYBN
zerodeux.fr, 7 mai 2020 (FR)
+
 (Text) Kate Crawford / Trevor Paglen
02#93, Spring 2020 (in English + French)
+
(Talk) La start-up nation : un cirque sans filet
With Antonio Casilli, Silvio Lorusso and myself
La Gaîté Lyrique, Paris, March 12 mars, 2020, 7pm
+
 (Text) Art, Capital of the 21st Century
in the Transnational Institute State of Power 2019 report
also in Spanish!
+
 (Itw) a conversation with Sylvain Darrifourcq
02#91, Fall 2019 (in French + English)
+
 (Itw) ComputerGrrrls, a conversation with Marie Lechner
02#90, Summer 2019, also in French!
+
 (Text) The Return of the Dead Moving Image
Commissioned by Klasse Digitale Grafik/HFBK Hamburg for 'Casting Screens'
 +
 (Text) The Polyphonic History of Net Art,
An Eternal Network? 
in 02#89, March 2019, also in French!
+
 (Text) Nick Koppenhagen
in 02#88, Winter 2018-19
+
 (Text) Another Block in the Chain
in André Hemer, The Imagist & the Materialist
Published by Painting Diary (Vienna/Christchurch)
Designed by Studio Büttner, Berlin
+
Proceeds of the BG Annual Conference
+
French translation of "Blockchain Future States", an interview with Simon Denny by Sam Skinner published in Artists Re: Thinking the Blockchain, ed. Ruth Catlow, Marc Garrett, Nathan Jones and Sam Skinner, Torque Editions & Furtherfield, 2017, Liverpool University Press.
in 02#85, Spring 2018
+