11.02_15.03.2014
Fondation d'entreprise Ricard, Paris (F)
"There was the wall, then the canvas, moving beyond the canvas, and, in so doing, returning to the wall, the canvas painted the same color as the wall on which it hangs… 
Here, a desire to explore the contemporary practices of the "off-canvas," understood both as off the frame (that is, something not openly shown but whose presence can be felt) and off the beaten track, away from well-charted territories.
Eluding its own definition (its essential definition, one could say: covering a surface with a color), painting becomes diffuse, indexical, contextual.
A painting exhibition which may not feature any canvas on the wall but be a place where painting breathes, a space given over to young artists whose practices all belong to painting, more or less."
That was the starting point. This statement submitted to the artists soon developed beyond its initial intent. Hours of discussion ensued, owing much to the fact that, this once at least, we had time on our side. We had the opportunity to use it to examine this situation of collective exhibition rather than rush into its production. The possibility of a common gesture then emerged. What is a collective exhibition when the artists brought together by the curator decide on a common gesture?
Considering the space as a single object sounded quite right, as did emphasizing one of its perspectives: revealing something already there, a trajectory, a look. What was the situation, if not a set of points of view on the same space? Carving out two original planes and giving them to see through a kind of pictorial counter-form, a sharp cut into something that would tend towards indetermination, was one possible answer to this situation. How do you paint so that painting is not what is being looked at? How do you choose a color almost by default, and then counter its pictoriality, blur it, thus using it to bring out this white space, this abstraction created from scratch, yet always already present?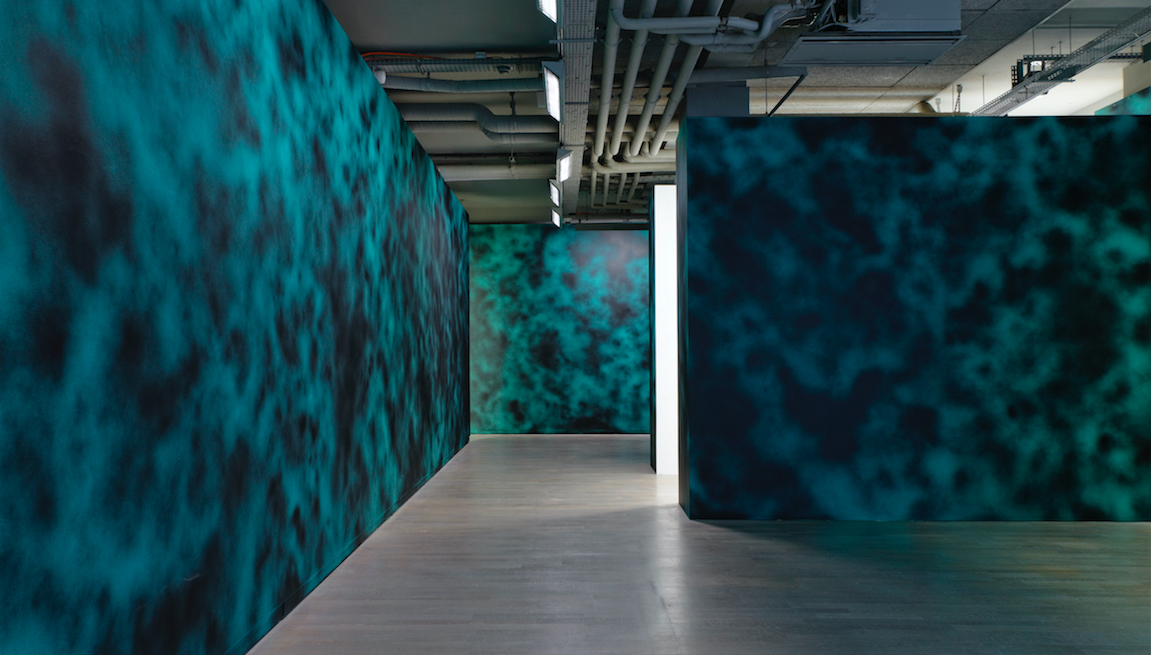 First of all there was the obsession with the skirting-board. Revealed by Elodie, this preoccupation focused on a slight hollow, a sort of counter-form at the foot of the foundation's walls, kept us on tenterhooks for a few weeks (dare I say that it was actually several months?). At first glance, these "floating" walls did not shock everybody, because some people in the group were less accustomed to white spaces, and when Jonathan pointed out that not all the walls were connected, Guillaume riposted that every white cube is in the end never really either a cube or really white. Blaise, for his part, expressed his radical desire to de-activate the usual function of the false plasterboard walls, and make them disappear. What was involved was conceiving a space. It mustn't be just conceptual. I don't like it when we think of concept for concept's sake. For me, the concept is perceptible, Elodie added. The issue of the possibility of a shared gesture then came to the fore. What is a group show if the artists brought together by the curator decide to present a shared gesture? Does it become monographic? We're not a collective and we don't want to be one, was one of the answers, which led to the question being rephrased: What happens when artists meet to devise a collective show?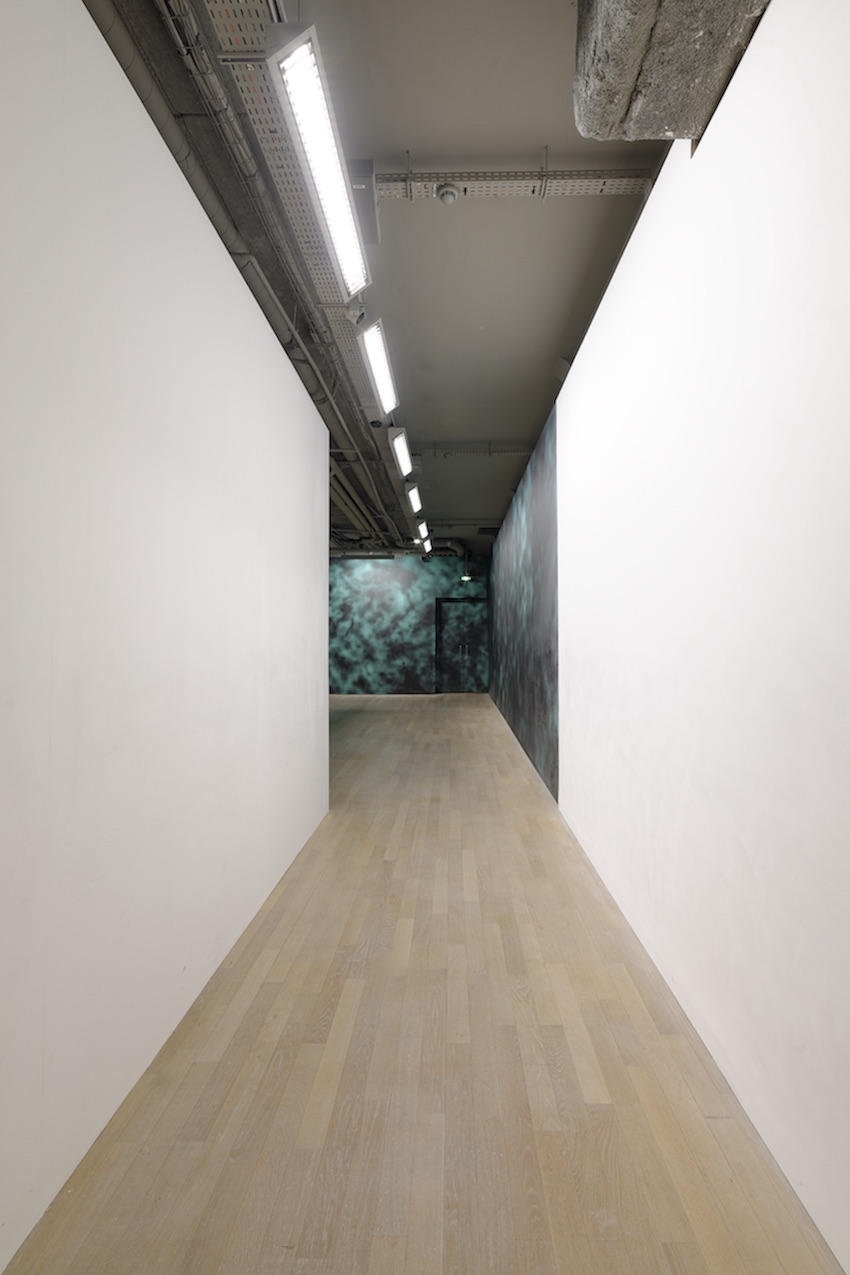 Our activities suffer from curators' sets and intentions, it's rare to have so much time, ahead of time, to think about an exhibition.
It was at that moment that my position, which, up until then, was to let the exhibition happen, was asserted. I would switch from being the observer that I was of that collegiate reflection process to becoming the scribe. I had given the impulse, now it was necessary to follow what resulted from it, step by step; it seemed important to me to record everything, the forward moves and the back-to-go moves alike, decisions as well as doubts.
In relation to the skirting board, the column is perfect, there is not that discrepancy, the skirting board does not exist on the column. It is just a plane. My basic idea was rather to do away with that skirting board, get rid of it, meaning making its negative, filling it in, as if it no longer existed, quite simply. Simon reverted to the matter in hand. The skirting board is a good pretext for playing together, Guillaume agreed.
The exhibition is a sum of compossibilities. More so than a possibility, a compossibility demands an attention to the other: it is not just a matter of being individually possible but of being possible-with-others. In a way it implies a compatibility and, when examined as an existential principle, posits that a thing exists because it is compatible with other things, with its environment. Existing possibilities thus owe their existence to their compossibility.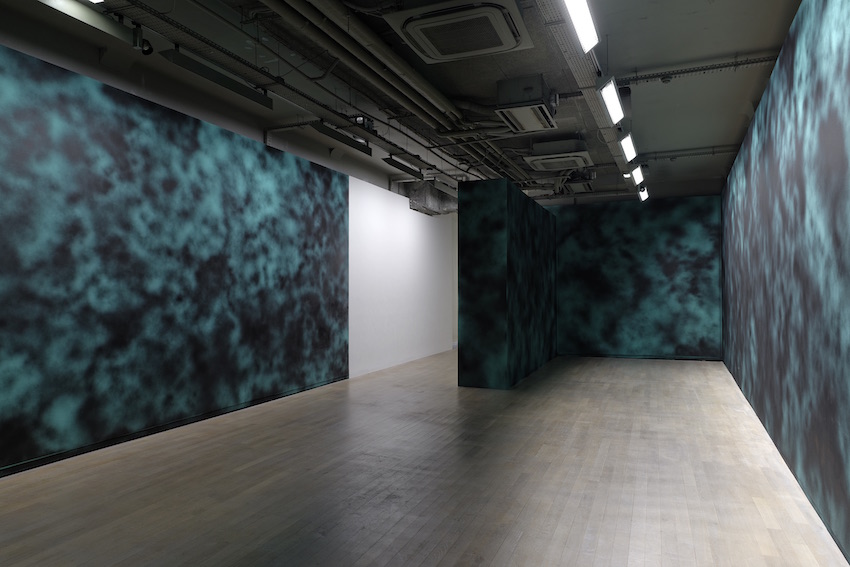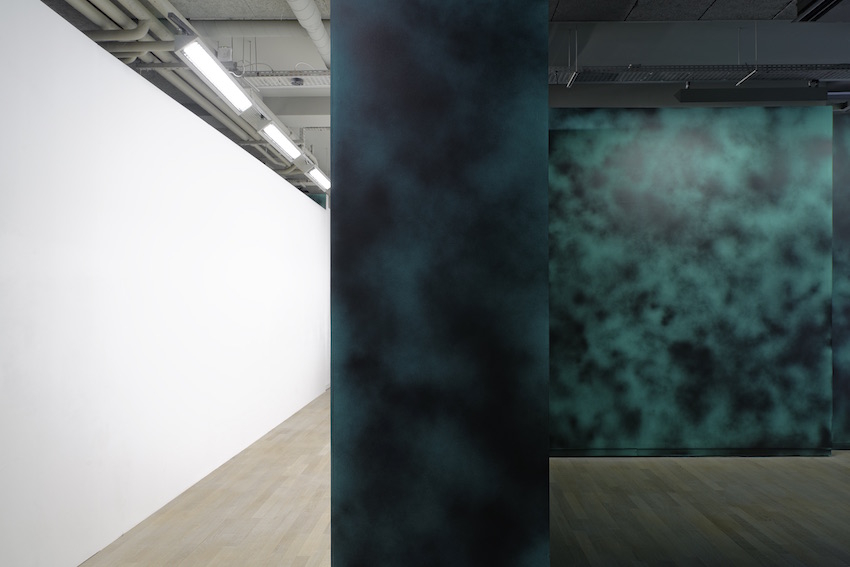 In order to envisage showing painting in this space, a unity must be created somewhere, and the painting must be made possible. The space has to be tamed. The idea was raised of delimiting it, and avoiding the walls of the entrance and at the back, which were too connected with the outside. What was involved, in any event, was considering the space above all else: the very domestic floor, and the ceiling which vaguely calls to mind the underneath of a truck, the false walls, too. The crazy hypothesis then suddenly sprang to mind of making a false ceiling with a false painted sky with clouds. If we paint it, I wonder if that does not relate painting to make-up. And knowing that there are no windows in this space: how is it to be lit? And then a false ceiling reduces the height, so we'll be even more squeezed between two planes.
Thinking about the impact of the context on painting is not only very speculative but also akin to scenography. Thinking about the impact of painting on its context is a way of designating its use value. The delimitation created by the partition wall makes a very small entrance, as if one were entering the space anew; if this first room remains completely empty, this re-enacts the idea of the trajectory of painting. Otherwise one can come up with a lit ceiling, there is no longer any painting, just light and colour. You enter, you walk across an empty space, you end up with an empty space and, in the meantime, you have traversed a kind of confusion which is, nevertheless, the simple thing that joins us all together.
Another unity is called for, this will not be enough.
We might begin by determining a space for this common gesture, perhaps by staking out one zone in particular, Davide would suggest. A point of agreement in this polyphonic dialogue with the place, I would add.
So it is a question of knowing if we want to see the exhibition as a temporary and arbitrary set of compossibilities, or as "a set of propositions or states of things that is compossible to a maximum degree (which is to say, such that all the propositions and all the states of things of this set are compossible, and that the addition of any new proposition or any new state of things makes this set incompossible)", as Wikipedia puts it so well on the subject of contemporary theories of possible worlds. Otherwise put, the exhibition can be seen as one of the possible worlds, and there will thus be a whole host of other counterfactual exhibitions…
Considering the space as a single object seemed pretty apposite. Underscoring one of its perspectives, likewise. Revealing an already-there, a trajectory, a way of looking. What was this situation if not a series of gazes cast over one and the same space? If each artist, in his or her own way, could be identified as a painter but without practicing painting in a literal or, in any event, expected way—in the covering of a canvas surface with a colouring matter, in particular—then instrumentalizing painting did not seem to be a problem. Nor did using it as a foil with regard to this space, either. How were we to paint in such a way that the painting is not what is being looked at? So the challenge would no longer be the painting for its own sake, but what lies beyond it, that which it is able to produce, perhaps even construct, the way in which, in its turn, it makes the space possible.
In the end, what would there be to see? A gaping space, a clear cut in something tending to indeterminacy, an opening between two planes, an interval, an abstraction created from scratch and yet always already present. A hiatus presented as the flipside of the space usually earmarked for exhibitions… To be seen? Maybe not.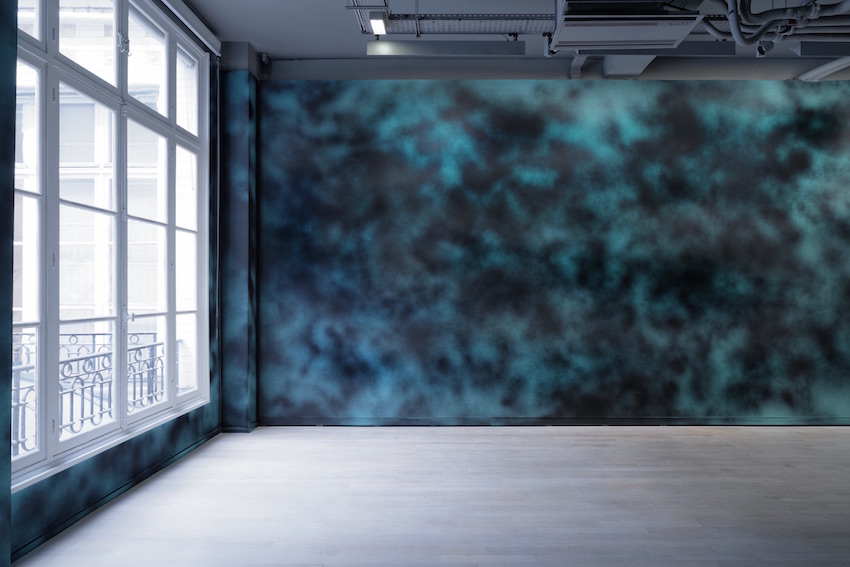 Download the exhibition leaflet with notes on the artists