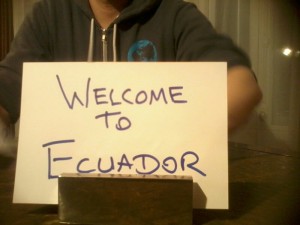 25.06_29.10. 2016
Zoo galerie, Nantes (F)
Since it is now proven1 that we are curbing our online lives, because we have thoroughly taken onboard the fact that our digital gestures are under constant surveillance, the following issue obviously rears its head: what is the future of knowledge in a society whose members censure themselves and prefer watching kittens videos and having sexy conversations with chatbots?2 (Who are we when we know we're being watched? Are we the person we profoundly are, or the person we prefer people to think we are? There are some who unhesitatingly argue that we would be more honest if we addressed a robot.)3 Remote control of populations by intimidation: needless to say, the principle is not a new one, calling to mind certain totalitarian forms of social organization, although here the procedure works in a negative way: it is not so much thought that is being dictated as information that is being disguised.
When Julian Assange founded WikiLeaks in 2006, his intent was to publish information to explain how the world really works,4 persuaded as he was that "with some clever mathematics you can (…) enable any indivudual to say no to the most powerful state."5 Publish or Perish,6 as he summed this up. It was with the online release of the famous video of an American air raid on Baghdad, showing civilians, and in particular two Reuters photographers, being openly mown down in a street, that the website acquired a worldwide audience. The year was 2010. The subsequent sequence of events is well-known: the demand for Assange's extradition made by Sweden, based on a private matter, whose repercussions could well include his incarceration in the United States, just like the whistleblower, Chelsea Manning, who copped a 35-year sentence in a military prison.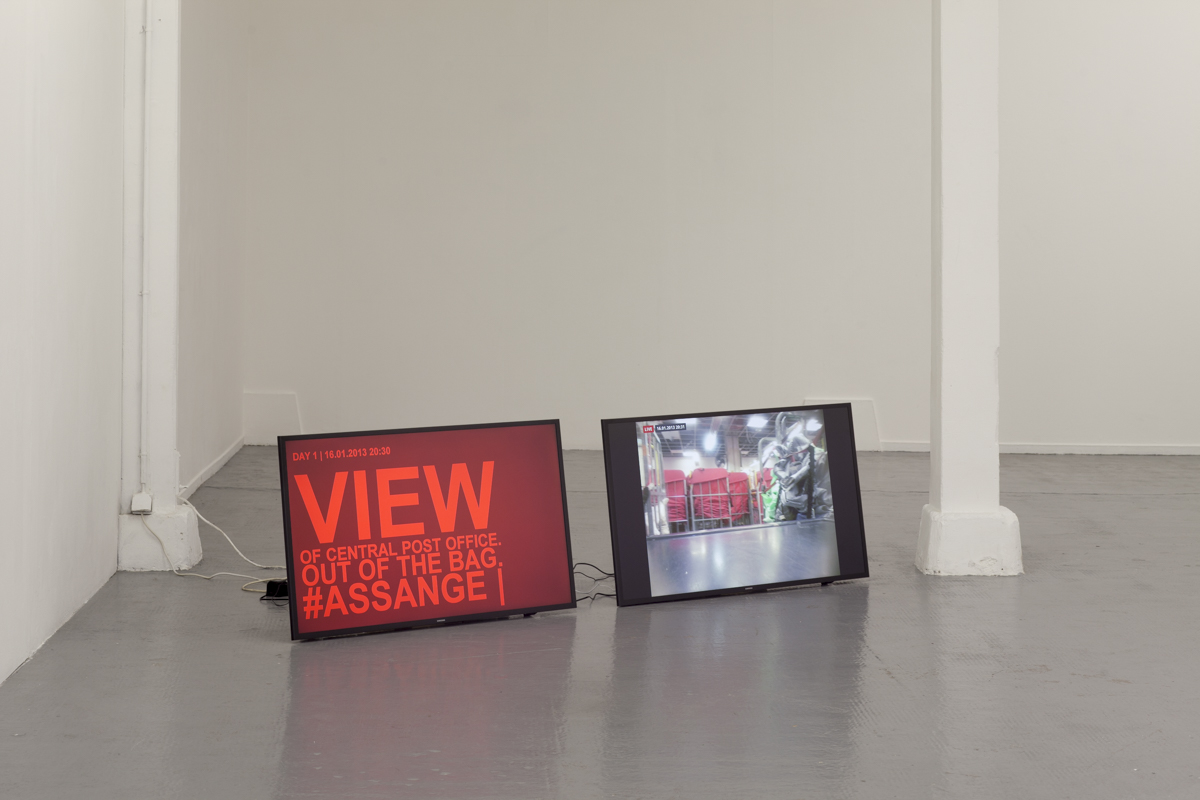 On 19 June 2012, Julian Assange entered the Ecuadorean embassy in London, from which he has not since emerged. Six months later, pursuing the idea of breaking down the physical barrier around the embassy created by not only diplomatic guards but also large numbers of policemen, activists, journalists and curious bystanders, !Mediengruppe Bitnik sent a package to Julian Assange. A somewhat special package fitted with a telephone in GPS mode with its camera programmed to take a photo every ten seconds and instantly upload it on Twitter. Several batteries were hooked up to the parcel to make sure there would be live follow-up throughout its London journey from the humble post office in Hackney, to the embassy in posh Belgravia. This third-millennium Mail Art performance took 36 hours, a day and a half during which a certain number of followers were on tenterhooks, as were ordinary BBC TV viewers, watching the whole thing live. For those who were not glued to their screens on 16 and 17 January 2013, the resulting video will serve as a way of catching up. Delivery for Mr. Assange, an assemblage of photos taken by the "postdrone" punctuated by documentary tweets, shatters the usual continuity of time while at the same time giving rise to breathless fascination.
After physically visiting Julian Assange on several occasions, and in the wake of a project involving him as well (Delivery for Mr. Rajab,7 2013), the Zurich-based twosome decided to issue an identical 1:1reproduction of the now famous office which will soon have been Assange's 'home' in the Ecuadorean embassy for four years. If he leaves his refuge for any reason whatsoever, he will be instantly arrested by the British police ringing the embassy, but he is also barred from openly showing his lodgings, for obvious security reasons.
This replica is thus made from memory by the artists, there being a ban on taking photos inside the embassy.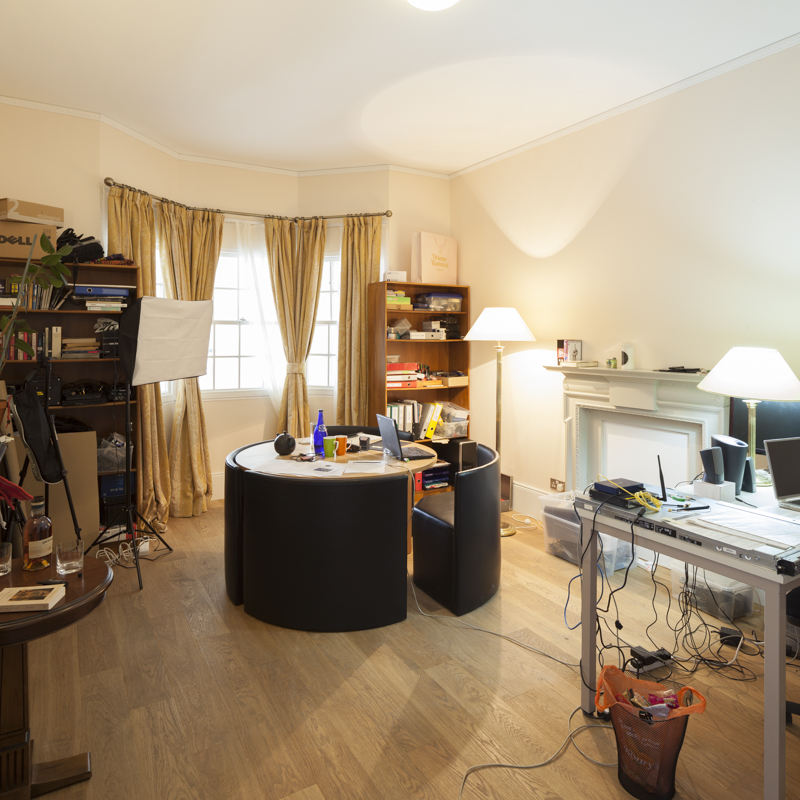 So today !Mediengruppe Bitnik is inviting you to enter the closed world which Julian Assange has been living in for these past four years of "voluntary" reclusion. As an embodiment of the WikiLeaks nerve centre, this space, which has no outside and is intentionally presented as a set, helps us to experience the confinement of the most famous of hacktivists. At first glance, Assange's Room is obviously an egregiously political project, but not least because of the thoughts about space which it prompts: what is signified by the inclusion of one space within another? Is it possible to reproduce a spatial sensation?8 This small office which has aroused a great deal of curiosity among public and media alike turns this curiosity as the counterpart of our rulers' curiosity about us, which manifests itself by their ubiquitous surveillance both of our doings and gestures, and of our words said and written. This small office has been, since 19 June 2012, a symbol of the fact that impeding the freedom to come and go will never interfere with the freedom to let the truth come out.
In order to intensify the experience, Adam Harvey specially conceived SKYLIFT, a geolocation emulator that virtually relocates visitors to the Ecuadorian Embassy in London. The device works by broadcasting WiFi signals that exploit a smartphone's reliance on using nearby MAC addresses for location services. Once engaged with SKYLIFT, the visitors' smartphone's new approximate location will be 3 Hans Crescent Knightsbridge, London. There, they can check-in or share photos that will be tagged with latitude and longitude of the Ecuadorian Embassy in London.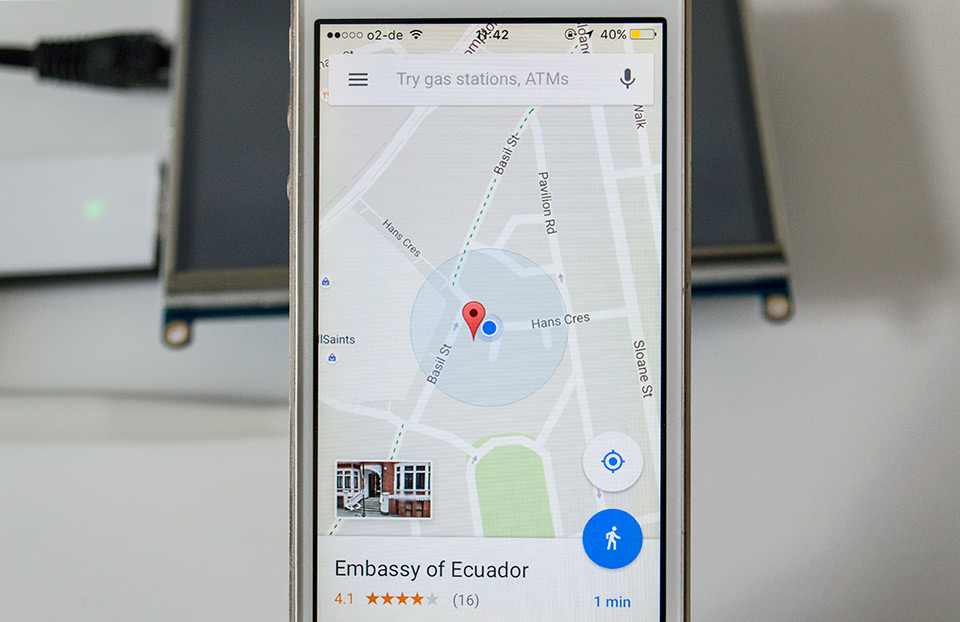 1 "Jonathon Penney, a PhD candidate at Oxford, analyzed Wikipedia traffic in the months before and after the NSA's spying became big news in 2013. Penney found a 20% decline in page views on Wikipedia articles related to terrorism, including those that mentioned 'al-Qaeda', 'car bomb' or 'Taliban'". https://www.washingtonpost.com/news/wonk/wp/2016/04/27/new-study-snowdens-disclosures-about-nsa-spying-had-a-scary-effect-on-free-speech/
2 is anyone home lol, the latest !Mediengruppe Bitnik project to date at the Kunsthaus Langenthal (Switzerland) from 28 April to 26 June 2016, presents chatbots from an online dating website which uses them to make up female user profiles. During the disclosure of the Ashley Madison fembot affair, it was revealed that the site, which attracts very few real female users, "employed" some 70,000 robots who sent more than 20 million emails to its male users. This is a site which still announces frightening user figures, even after the scandal.
3 During Theorizing the Web, Museum of the Moving Image, Queens, New York, 15 April 2016, Judith Donath observed: "When we know it's a machine, we're not trying to make a good impression on it. People tend to be more honest to bots".
4,5,6 : Hans Ulrich Obrist "In conversation with Julian Assange" (2011), in e-flux journal, The Internet Does Not Exist, Sternberg Press, 2015, p. 209-218-217.
7 When Julian Assange had received his package, !Mediengruppe Bitnik offered him to send one to a person in a similar situation. Assange decided to dedicate his parcel to the human rights activist Nabeel Rajab, at that time in a maximum security prison in Bahrein.
8 We'll think of the virtual reality app launched by the Guardian last April which places the viewer inside a US solitary confinement prison cell. http://www.theguardian.com/world/ng-interactive/2016/apr/27/6×9-a-virtual-experience-of-solitary-confinement
It is estimated that between 80,000 and 100,000 people are locked in solitary confinement in the United States. Chelsea Manning spend 9 months in one of those. http://www.theguardian.com/world/commentisfree/2016/may/02/solitary-confinement-is-solitary-confinement-is-torture-6×9-cells-chelsea-manningno-touch-torture-and-it-must-be-abolished